Betrayal at House on the Hill [AW]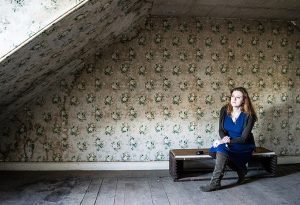 To start off 2017, I have something a little different for this feature. It's an outfit inspired by a game — but it's a board game and not a video game. HEATHER THIS IS A VIDEO GAME BLOG THOUGH. (2020 note while reposting: I originally posted this on a video game themed blog. ;D) I know, I know. But anyone who plays board games a lot can tell you it's just as easy to get lost in one of those as it is to get lost in a video game. Betrayal at House on the Hill definitely does that for me.
Wikipedia gives a great basic idea of the game on their BaHotH page: "Players all begin as allies exploring a haunted house filled with dangers, traps, items, and omens. As players explore the mansion, new room tiles are chosen at random; accordingly, the game board is different each session. Eventually, the "haunt" begins,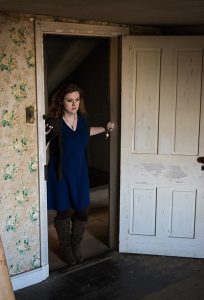 with the nature and plot of this session's ghost story revealed; one player usually "betrays" the others and takes the side of the ghosts, monsters, or other enemies, while the remaining players collaborate to defeat them."
An expansion was released for the game this past fall and I've been playing it whenever I have enough people who want to play. It's creepy and entertaining and I FINALLY got to be the traitor for the first time over the holiday break! (My haunt was called Cat O'Clock and I had to fill the house with angry kittens to appease a hypnotizing cat — named Precious Buttons — who had me under her spell. I almost won too!)
In November of last year, Nate (the other half of zhobot) and I headed up to Pennsylvania to Selma Mansion for a cosplay photoshoot (we wore our Layers of Fear costumes and it worked out beautifully! :D) and I brought this outfit (along with a couple of others) to get some photos for this blog. Many thanks to Nate for the photos! ♡ I couldn't resist an outfit inspired by Betrayal at House on the Hill due to the setting (the mansion was perfect!) and I had a lot of fun figuring out what to wear for it.
I went with blue as the main color because of Madame Zostra/Vivian Lopez's dress (we always cackle cause somehow in every copy of this game we've played, her piece is always tilted at a weird angle, like she's doing the Michael Jackson lean) even though I'm usually one of the kids when I play — then brown as an accent. It was cool so I wore leggings and a sweater, along with tall boots. My favorite part though was the accessories. My earrings were bronze moons, I made a bracelet with a heavy skull bead as an anchor point and then made a necklace.
The necklace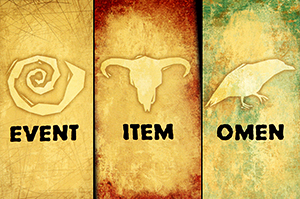 made me geek out when I realized the pieces I had and could use for it. The base of the pendant was a key (old house with locked doors and all that jazz) with a small clock hand attached to it (limited time before the haunt is revealed) and then the three small charms I attached to the key were a small spiral bead, a bull skull, and a few feathers — each one representing the backs of the categories of cards in the game. I'm sorry, I'm a nerd. Especially for this game.
I can't say enough how entertaining this game is — you should definitely check it out if you get the chance.