On our old Zhobot blog, we had a feature called Equipped Inventory. The description of this feature was:
Equipped Inventory is a monthly feature here at Zhobot where we take a video game character and put together an outfit inspired by them with mostly things we already own or things we've found at thrift stores! Some will be normal outfits while the best adjective for others will probably be "ridiculous"…
We always had fun doing the feature; hunting for thrift store items and posting all the photos, but we ran out of time to keep up with it. When we switched blogs, the six posts we had never made it over here. We figured we'd put them all in one post so they're up in the right place. We've been thinking about bringing this feature back, but possibly as part of a project, the two of us and some friends are putting together. Keep an eye out!
[NOTE FROM 2020 WHILE I'M REUPLOADING THIS ENTRY XD — we did end up bringing this name back for a gaming website with a couple of our friends and had a feature on there called Armor, which was video-game inspired outfits. All the outfits I did from that old site have been put on this blog under the Abandonworn feature!]
---
MARIO – SUPER MARIO BROS. SERIES (originally posted by hexterah on 04/10/2013)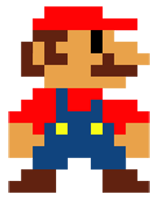 We thought we'd start off with one of the most recognizable video game characters around – Mario (and also one of our least ridiculous ideas)! I'm a total jeans-and-t-shirt person pretty much 97% of my free time so I wanted to try something completely off the wall for me fashion-wise when putting this outfit together. That would be a skirt for me, no really. I rarely wear skirts and dresses (I'm trying to change, I told you). I really would like to start wearing skirts and such but I don't really go anywhere besides work (which I wear a blouse and slacks to) where looking really put together is needed (grocery store, gas station, etc. – like I said jeans-and-t-shirt here SO COMFY AND EASY BREEZY beautiful cover girl) so I stick with my comfort zone.
Since I started this post when it was still cold out (AND IT SNOWED IN MARCH?) and Mario also wears a hat, that's where the tights, sweater, and hat come in. We debated on ways to include the whole coverall thing here but we were kind of stumped (when I did a femme!Mario outfit one year at Otakon awhile back, I did include them though! ;D) so we passed on that. The skirt and sweater were thrift store purchases and the boots I already owned, while the tights were $5 at Target! On a late night run to the Mart of Wal to get Nate's coveralls he used for his last minute Sigma (Zero Escape: Virtue's Last Reward) costume for MAGFest 2013, I came across a winter hat for $4! I couldn't pass up that wallet either, I'm sorry. IT HAS LUIGI ON IT NO ONE EVER PAYS ENOUGH ATTENTION TO LUIGI HE IS MY WEAKNESS. <3 I also actually needed a new wallet so this worked out splendidly.
| | |
| --- | --- |
| | |
Anyways, a pretty simple outfit for one of the most recognizable characters! All the outfits we do that could be normal outfits will probably be pretty simple but we like doing all sorts of things to show our love for gaming so this just seemed like something to start up on Zhobot!
---
WHEATLEY – PORTAL 2 (originally written/posted by draetheus on 05/16/2013)

What character says "I'm going to murder you with a friendly English accent" better than our buddy from Portal 2, Wheatley! Be not afraid gentle readers, this outfit won't actually kill you. Four parts scavenged niceties from the thrift shop, one part Walmart (sorry buddy, I know you had it rough before you controlled all of Aperture, but still…), this look will instantly declare you as king of science! Or king of the science lab. Or maybe just king of your own twisted fantasies. The bright metallic blue tie is the eye of the set, giving contrast to the other pieces. The white hoodie gives you that lab nerd look without the smell of sulfuric acid. And the shoes? Well, we haven't quite decided yet. Rest assured they'll disintegrate your socks off!
---
SINDEL – MORTAL KOMBAT SERIES (originally posted by hexterah on 06/27/2013)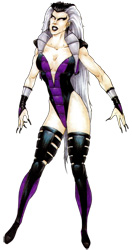 hile wandering through the thrift store for pieces for this feature, I stumbled across this dress – which is a couple sizes too big for me, but I couldn't pass it up. There are so many games we play that embrace the color purple (Dance Central 3, Saints Row, etc.) but for some reason, my mind instantly went to SINDEL. Also, lots of things remind me of Sindel because I wanted to be her when I was younger i whip my hair back and forth i whip my hair back and forth. Now, I feel like some shoulder pads a la 80's-power-suit would've been very appropriate for her, but this works too. Add crazy black stiletto boots (that were black until I spraypainted them green for a Poison Ivy costume and then spraypainted back to black for other costumes) as well as a necklace and black/white hairbands (since my hair is not as fabulous and black and white as hers) and you have the queen of Edenia, casual and collected. Or maybe ready for an adult prom. Or something. I don't know. Ridiculous Earth Sindel with red hair.
This will probably be my closest thing to costuming as her because she is so amazing and I don't think I could ever pull anything of hers off. Hair, outfit, ANYTHING. Maybe the scream. Maybe.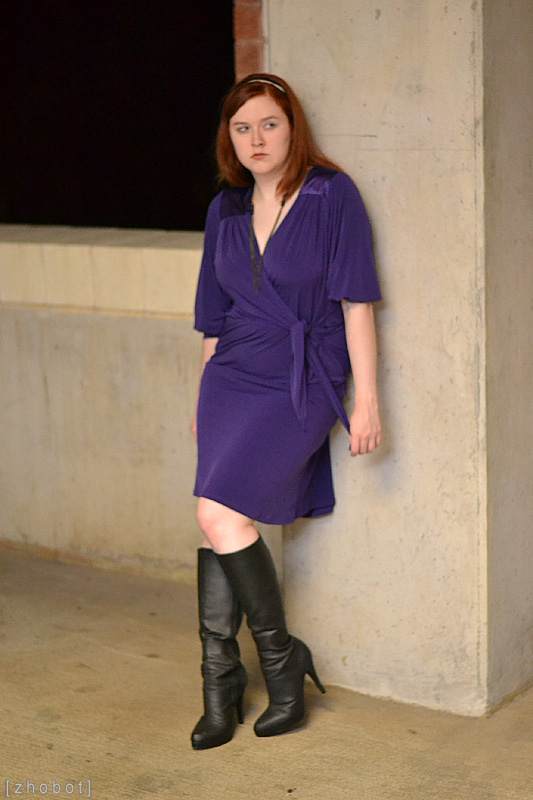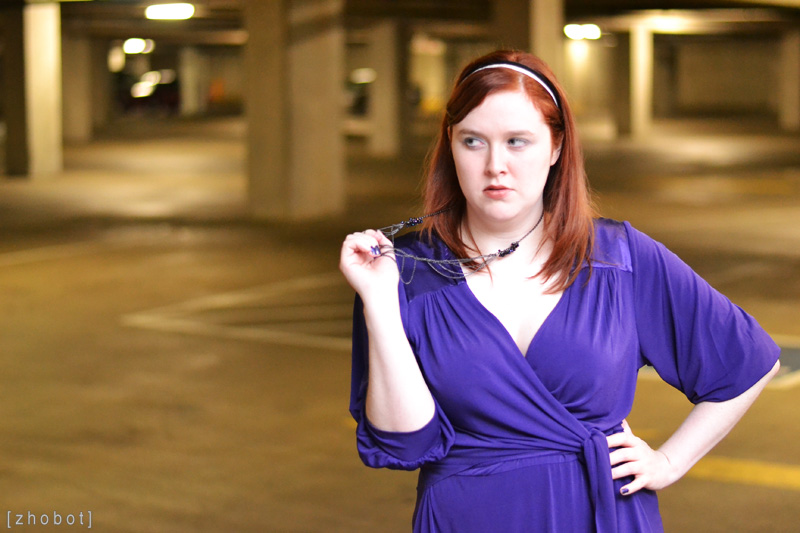 ---
KING OF ALL COSMOS – KATAMARI DAMACY (originally written/posted by draetheus on 07/20/2013)
It all started when Heather loudly exclaimed "ROYAL RAINBOW!!!!!" inside a thrift store. I was then transported into the stars by a beam of colorey light while becoming surrounded by thousands of small cylinder-headed creatures. Ok, that didn't really happen. What did happen is that Heather found a crazy tie-dyed shirt and declared that I must do an outfit inspired by the King of All Cosmos. Who is a total sleaze, by the way. I mean what, he wrecks all the stars in the sky and then expects his son to clean up the mess? At least he's got his fashion wits about him. Surprisingly the shirt was the "newest" part of the outfit. The remaining pieces are a recycled grab bag. The pants are a part of my Oblio garb, the belt a shiny beacon of my Ken costume, and the crown is an unused piece Heather bought. Oh, it was fabulous enough, it just wouldn't stay on her head. I guess my massive cranium is more like the King's than I thought. Of course, I'm not wearing trash cans on either side of my head. You gotta draw the line somewhere.
Sadly this last photo was altered by a fuzzy interplanetary beast. It appears she was jealous of my swagger and hoped to claim the gleam of the camera for herself.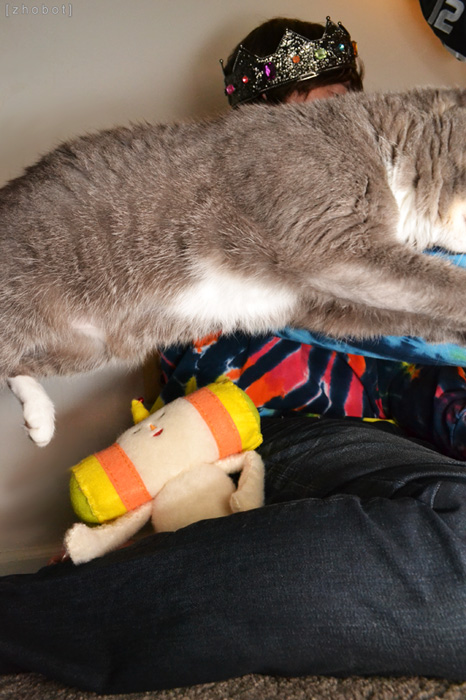 ---
KINZIE KENSINGTON – SAINTS ROW SERIES (originally posted by hexterah on 08/19/2013)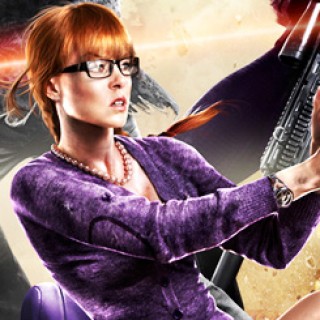 Not only is Kinzie my favorite Saints Row character, she is also in my list of top ten favorite fictional characters in general. I can't resist a snarky redhead shut-in who is glued to her computer and doesn't sleep. I've put together costumes of her outfit from Saints Row 3 as well as 3 of her outfits shown in the previews/images for Saints Row IV (and am working on a fourth for MAGFest!) so it seemed natural that when my turn came up for Equipped Inventory during Saints Row IV Month, a Kinzie outfit would appear!
For the whole outfit, I tried to kind of mix her casual jeans and layers from SR3 with her snappy jewelry and heels from SR4. I kept the shoes not-too-fancy and the hair still sort of SR3 messy. The purple overshirt came from our favorite thrift store and the bracelet was the one I made for the first SR4 Kinzie costume I put together before PAX East 2013. Everything else I already had in my closet. I couldn't resist an Agent Kensington Kinzie outfit I JUST COULDN'T.
---
LU$H CREW – DANCE CENTRAL 2 (originally posted by hexterah on 11/07/2013)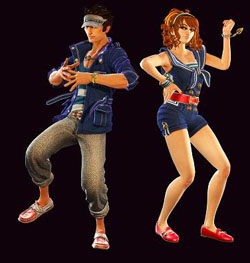 Lu$h Crew (or the characters of Lu$h Crew, technically) appears in the whole Dance Central series but I specified DC2 in the title because this outfit was inspired by their crew outfits that they originally wear in the second Dance Central game.
I found this shirt and pair of shorts at the thrift store and was instantly reminded of the magical Lu$h Crew yacht. Originally it was going to be more of an Aubrey outfit, but it happened to fit the crew's whole easy, breezy thing so I went with them in general instead of just her. I accented with brown sunglasses and brown sandals because all my other sandals are black, haha. This is really a "summery" sort of outfit (and it's now November, hello cold) but these photos were taken months ago and we've just been too stupid/busy/spending every minute of every day napping to finally make another Equipped Inventory post!
Many thanks to Bria for getting these shots!
---
WHAT CAN WE SAY, we love thrift stores and video games so much and this was the perfect way to marry them together (except for all the times we actually find costume pieces there too, hehe).