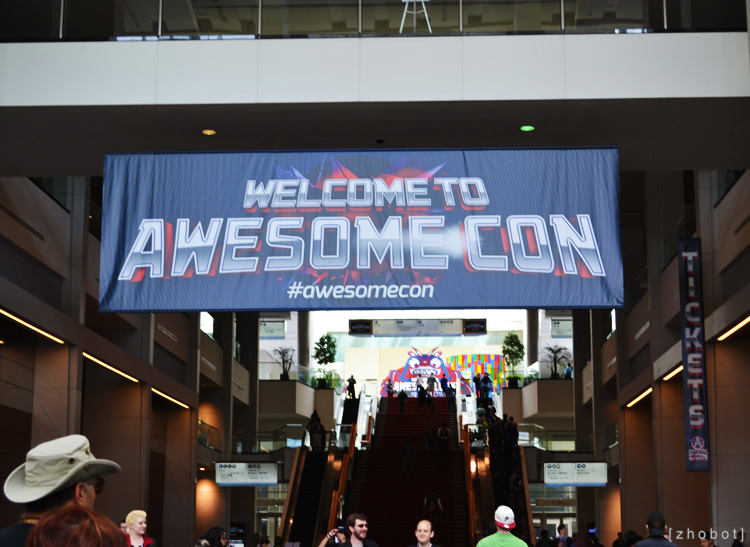 April 19th through the 21st was the second year of AwesomeCon in Washington D.C.! Nate and I couldn't make it last year but we heard only good things so we wanted to make sure we went this year. We were very happy we did. Despite some growing pains here and there, the convention definitely had more good going for it than bad. I'll point out some I saw of both categories.
The bad I experienced didn't consist of much except for a couple of big things, which were actually explained after the convention. When we arrived, the line was wrapped around the building for people who had already purchased tickets. The convention center is huge and Nate and I wandered to the back and got in line. Normally I wouldn't be that excited to stand in line but this was actually pretty neat because it was here I noticed all of the families that had come out for the convention.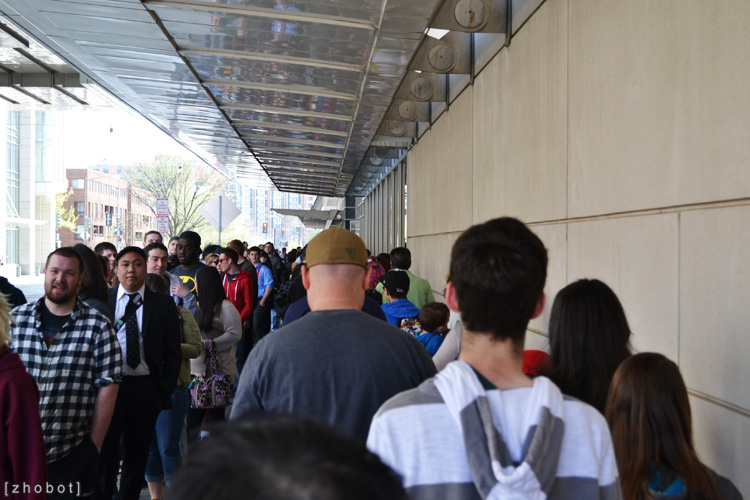 Later we learned that many of the attendees on Saturday heard about AwesomeCon because of the coverage they were getting in the local media thanks to their World Record Attempt on Friday. Those people bought their tickets Friday night and the attendance on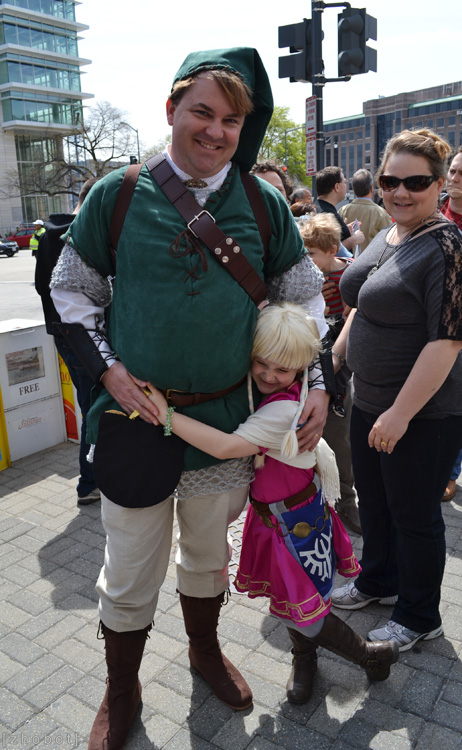 Saturday was much higher than they expected. This was a great thing for the convention – maybe not for all the people in line but we only waited in it for an hour. I've waited four hours in line for a badge at Dragon*Con (before they fixed the system) so I was okay. Also, as I mentioned previously, I had entertainment! Seeing all the people in line that were in costume or with their families made me smile. Especially when there were families in costumes like these two as Link & Zelda from The Legend of Zelda: Skyward Sword. Their smiles were absolutely contagious!
The other thing that fell into the bad category also had to be because of the level of attendees the convention had on Saturday. The Dealer/Exhibitor area was packed. The aisles in there and the Artist Alley section were very wide, which was great, but there were still a ton of people everywhere. I hope to see them spread out and use more of the convention center space next year.
With all that out of the way though, I can get to the good. The diversity of the programming here was wonderful, the Artist Alley was amazing and everyone I ran into on the Brute Squad (aka AwesomeCon's set of volunteers) was extremely helpful and nice. Saturday morning after we got into the convention we looked around the exhibit hall for a bit before heading to the Star Wars Discussion panel. It was moderated by our friend Bria of White Hot Room and besides supporting her, we wanted to see what the panel had to say about the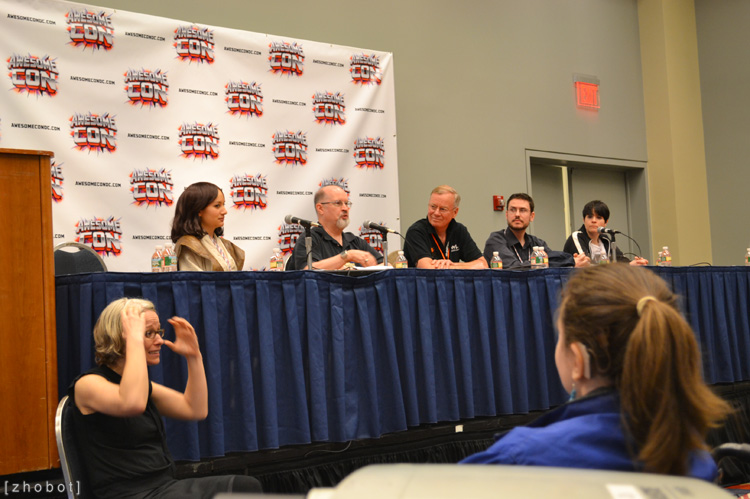 new Star Wars movies. After milling around the exhibit hall some more – and eating expensive convention center lunch (which was actually delicious, albeit expensive) – we got in line to meet Melissa McBride, who plays Carol on AMC's The Walking Dead. She was absolutely fabulous and very sweet and spent time talking to each group that went up to her instead of just signing something, smiling, and moving on. I also found out she hates touching cash just as much as I do and she gave me some of the hand sanitizer from her table (MY HERO <3).
We were dressed as Rick O'Connell and Evelyn Carnahan from The Mummy that day and gushed anytime someone gushed about The Mummy to us. It was great seeing that people still love that movie – it's definitely one of our favorites. Although, Nate also got a couple "Nathan Drake!"'s and even better were the, "It's Mal Reynolds!" We joked later about how we should've brought, "This is The Mummy & The Mummy Returns and This Is Why You Should Watch Them" pamphlets. (Naturally, with a tiny note on the bottom that reads. Third movie? What third movie?)
Sunday was a shorter day for us – we rode the Metro into the city and had no problem getting in the convention since we already had our 2 day passes. There was a lot of milling around in the exhibit hall again (so much to look at!) and also a trip or two around the video game room. We watched costumers as Anna, Elsa, and Kristoff from Frozen play Just Dance 2014, and then we watched another group go up and start a song. More people sort of fell in behind them and we realized we were sitting down by a giant dance party. The game room was set up very well (this is a big deal for me because you know how I love video games). There was a lot of room for spectators and people to walk by around the tables and they left a huge space for the Kinect and Just Dance.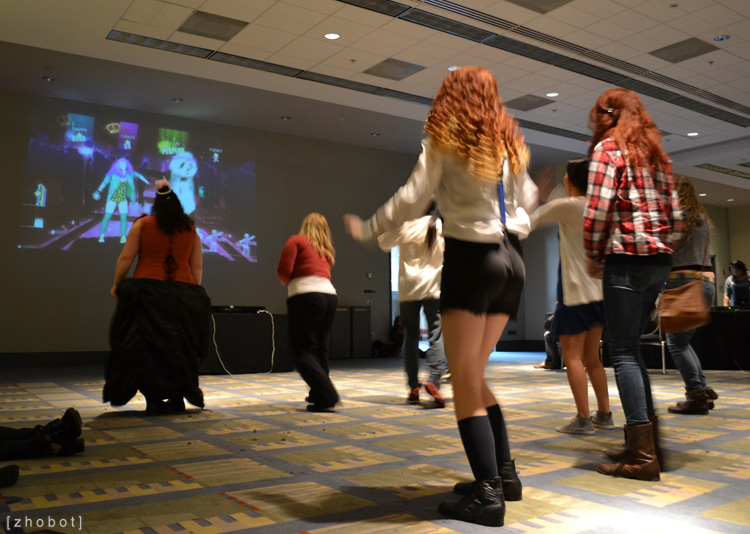 We went to a panel about 3D Printing and Cosplay and were pleasantly surprised to see the two people running it that we had seen showing a 3D printer at Eastern Shore Fan Con! The panel was very well run and I loved the fact that they went through the whole process from the beginning – the modeling whatever object you're going to print – to the end – the actual printing. It was nice that they passed around some of the items they made as well so everyone could get a feel for what the 3D printer and a little elbow grease could produce. The panel was run by Sox Cosplay and Props and Bindi Smalls – both of whom were also very informative and friendly.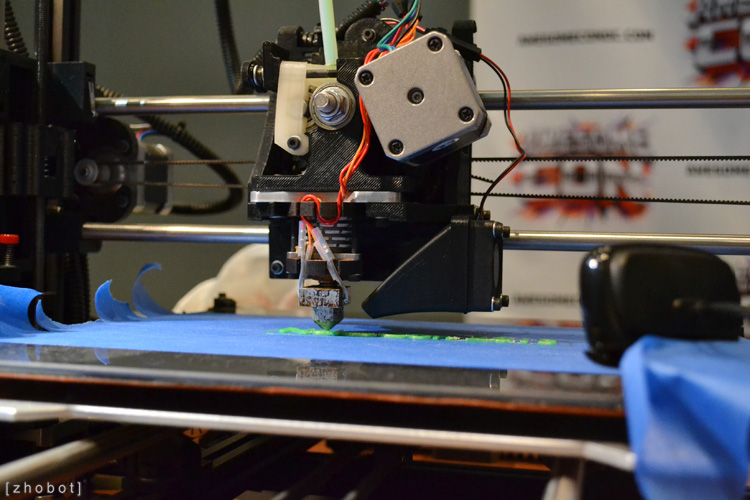 Overall, the convention was a lot of fun and with it being a short Metro ride away from us, we'll definitely make it a point to be back. Working out the space issues and line issues should be no big deal so we hope to see AwesomeCon expand and grow into the giant convention Washington D.C. needs!
Basically: Awesome job, AwesomeCon.