A few months ago (lolololol finally getting to this post after PAX East look at us go) something crazy went down – that something crazy was Katsucon one weekend and MAGFest the next weekend in the same hotel. We only went for one day of Katsucon and then we went the whole weekend for MAGFest so we weren't there for all of both but we can only imagine how the hotel staff felt.
We'll start with a quick paragraph about Katsucon. We went on Saturday to mainly see people we knew – not to do anything con related. We were kind of thankful that's what we were doing because it was a madhouse zoo full of people everywhere and we pretty much hung out in the fountain area talking to lots of awesome geeks. We also went down to the giant hall that led to the pool because that was the only place where there weren't a billion people and we wanted to at least get a couple of photos of our costumes. We've had these costumes done forever and we FINALLY GOT TO WEAR THEM. Byakuya Togami & Toko Fukawa from Danganronpa!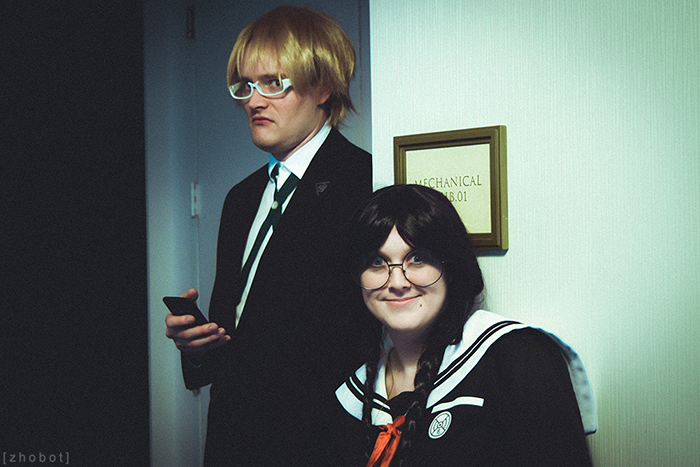 Thanks to Roger for getting these photos (SERIOUSLY THANKS TO ROGER FOR GETTING LIKE ALL THE PHOTOS IN THIS POST)! And also for hurrying and snagging these other goofy-ass photos from the back of a photo machine that did "example" shots of people standing behind the machine. They were only up for a few seconds after they were taken so he would always rush over with the camera and try to take a picture of the screen. SUCCESS!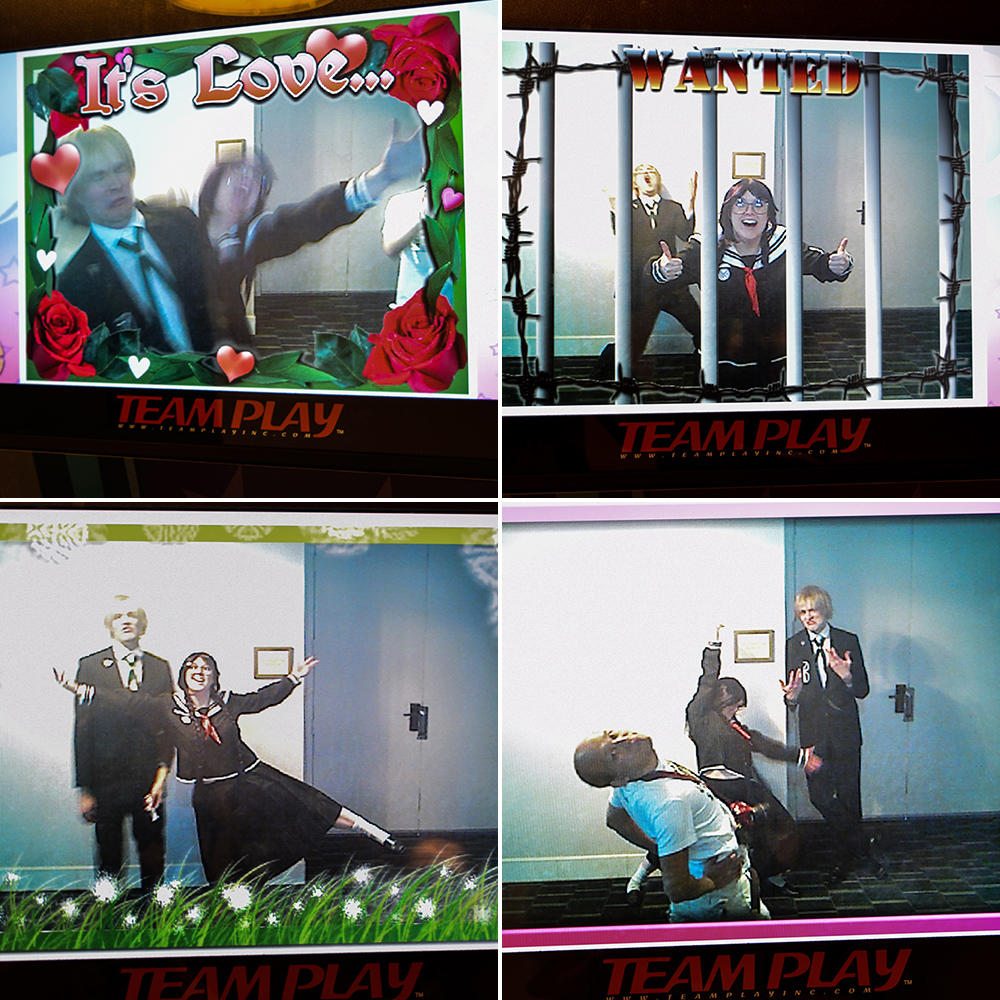 That's really about it for a Katsucon report, haha. Maybe one day we'll actually go back to the con, but we aren't sure as of now. We like seeing people we only see once a year though! This year we knew it was a no-go because of how much money it would be for hotel/badges for cons two weekends in a row and MAGFest is our favorite time of year (next to Halloween and Christmas… and MAGFest Classic ;D) so we knew which one we had to stick with in the back-to-back con issue.
SO MAGFEST 2016! We got there mid-afternoon on Thursday and the first thing of note that happened was Nate dropping what was left of a handle of Fireball Whisky (it was leftover from the ADAM drink at the wedding) which shattered on the tile and left the Gaylord National hall smelling like Fireball. I wish I had a dollar for every person who walked by while the staff was cleaning it up (the Katsucon & Gaylord staff who helped out both were amazing <3) and went, "IT SMELLS LIKE FIREBALL." I could've used all those dollars to buy my food for the weekend. A couple hours later we were in the Ninja Sex Party panel, flipping our shit because NINJA SEX PARTY WE WERE IN THE SAME ROOM AS NINJA SEX PARTY OKAY. The panel was hilarious (as expected) and if you wanted to watch it, it is up on YouTube here! Their cover album (Under the Covers, yesssssss) was about to be released shortly after the con so there is some fun talk about that as well as all kinds of other hijinks. Overall, the panel was great and just served to get us super pumped up for the concert that was taking place the next night.
On Friday morning we put on the Saints Row 2 costumes we've had done FOREVER, DJ Veteran Child & Shaundi and we were joined by Denis who put together an SR2 Johnny Gat! He didn't do the frosted tips because FIRST OF ALL, FROSTED TIPS, and second, his hair was already dyed purple even before he was going to join us as Johnny and it looked amazing. His hair fit the Saints perfectly so why not run with it? 😀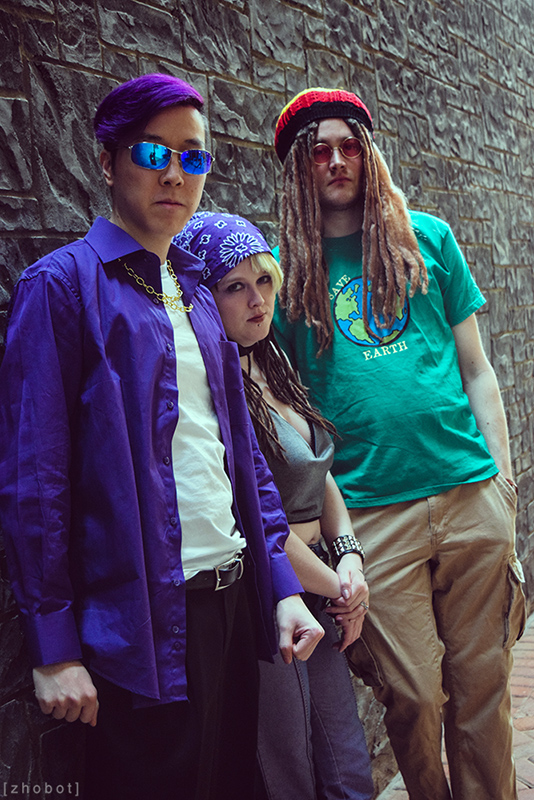 Friday was full of playing video games, wandering around the vendor room/artist's alley, and freaking out over awesome/adorable/perfect art and items and then Friday night was the NINJA SEX PARTY CONCERT AHHHHHHHHHHHH! TWRP joined them (since TWRP played on the cover album and there's going to be a lot of awesome work between them and NSP in the near future) and we got to see both bands rock the hell out. The concert is up on YouTube too — check it out! It was effing great and as an added bonus, DJ Cutman shared a new remix he did of my favorite NSP song, Samurai Abstinence Patrol after the concert was over. You can listen to the remix here — it is a perfect remix of an already kickass song.
After the concert and more MAGFest madness, our room managed to get more photos of the Five Nights at Freddy's/Hotline Miami costumes we originally brought to MAGFest Classic last year — we got to use the awesome wifi shutter app for the camera for some of the photos (like the first one below) and it worked out very well. These were taken around 4 in the morning? I'm not sure how that happened but our explanation for stuff like that is always just MAGFEST!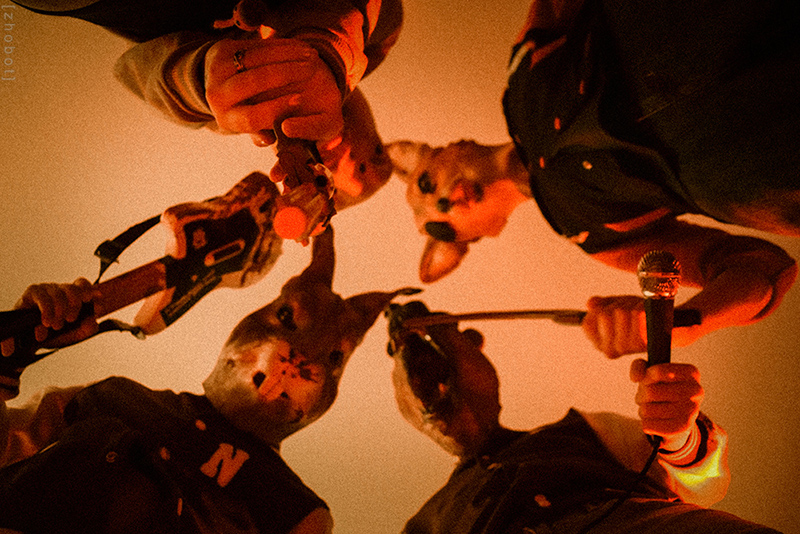 Saturday was playing more video games (because MAGFest) with Fallout 4 costumes in the morning and Until Dawn costumes with an amazing group in the evening. Fallout 4 is magical and we knew we wanted to make costumes from it but didn't have the time or budget for anything crazy. We ended up going with Nate and Nora pre-Vault 111 — aka the two characters at the beginning that you can rename and change looks-wise and all that jazz. We also had a little baby Shaun which was a baby doll from the thrift store. It was the least creepy looking baby doll we could find there and it was dressed all in pink so we ended up calling the baby Shaunita all day. We even made the baby a theme song.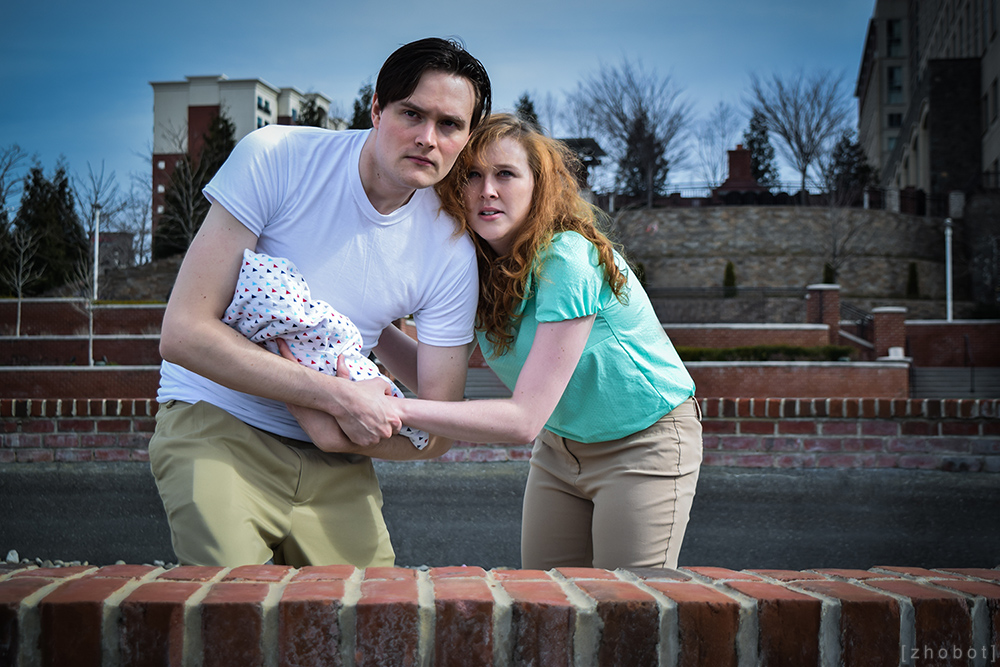 We met up with an awesome group of costumed people later who all loved Until Dawn as much as we do and we goofed off with them at a photoshoot and then thanks to Denis we got a couple more shots of us, also goofing off with the danger totem I made. Nate is always on his cell phone so him as Chris and me as Ashley worked out really well.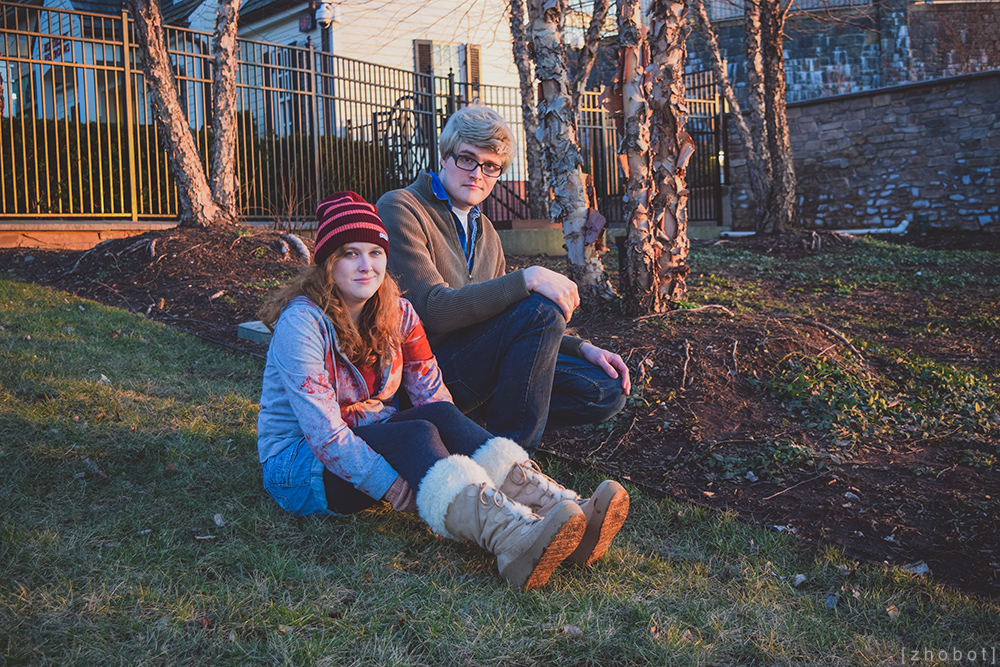 Roger helped us get photos for a Jacen Solo/Tenel Ka Djo (Star Wars: EU) photo thing we're working on later that night. We had to time it just right so that there weren't a bunch of people around the Gaylord National's main fountain in the atrium, but the lights and water features were still going. We caught it about five minutes before they turned off. Woo! Here is a shot from that evening. The whole photo project should hopefully be online THIS YEAR AT SOME POINT HAHAHAHA. Look, see, I'm being realistic here. 😉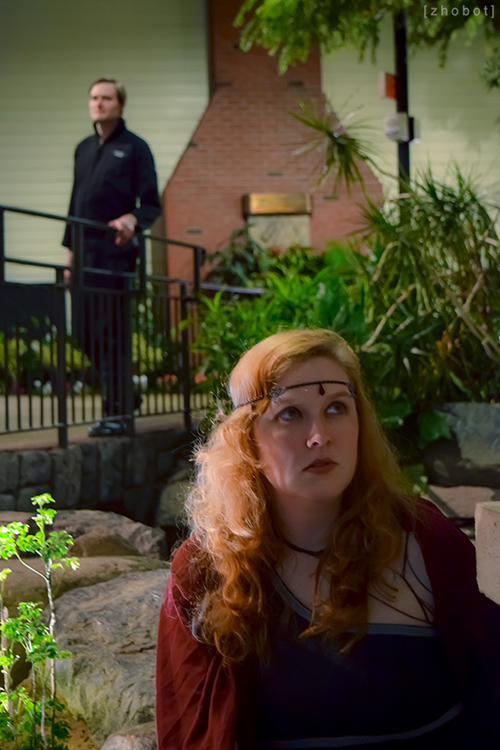 Sunday was more video games. We need to stop writing con posts months later because we forget everything that happens, but HOW DO WE NOT PROCRASTINATE?