It's The Glitterati's birthday!
For the past two years (this will be the third) we've thrown together some original outfits celebrating The Glitterati's birthday! They're our favorite crew in the Dance Central series and their birthday is June 4th! Since we can't draw or anything of the awesome sort, we figured we could throw our celebrations in the ring with outfits.
In 2013 we did glowing black and green and 2014 was concept art inspired!
Someday we want to put together an original outfit set that's all inspired by peacocks since they're just right for the Glitterati, but for this year's b-day outfit we settled for black with slight peacock touches here and there (plus we wanted everything to be a little grunge-tinged too – hence this fabric we found for the background + grain). Maybe this outfit is the preface to the peacock set later!
We did heavy makeup in blues/greens/purples on the main eye for each of us w/ silver & black on the other eye (the one under the hair, hehe). We also thought we'd only do half the lipstick too. Basically, one side of each of us is plain(ish) while the other has a glove with feathers at the end, dark eye makeup/dark lipstick, and the feathered ear cuff things. We added a splash of green with the green feather tank for Kerith and the green glitter-caked shoes for Jaryn.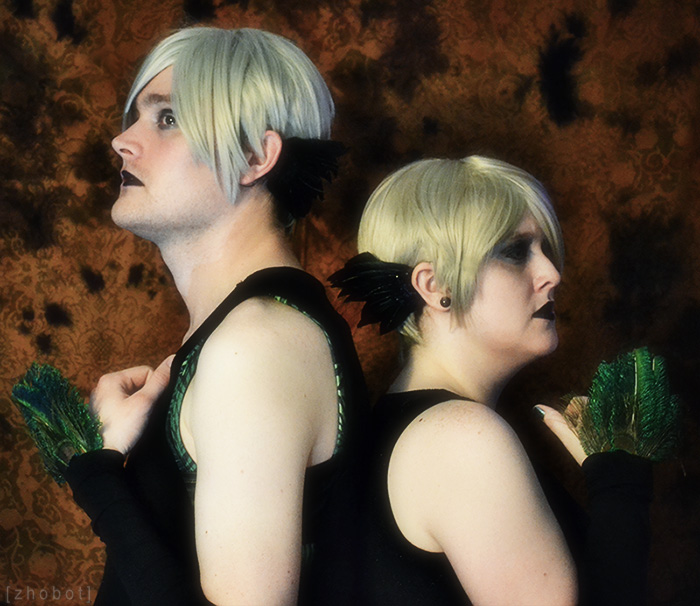 We'll always be crossing our fingers for a Dance Central 4 where Kerith & Jaryn cause the mischief they mentioned in Dance Central 3!
For more photos, you can check out the post on our tumblr!