Hey, wasn't PAX East 2 months ago or something? Yes, it was! But the blog had some hiccups and I haven't had a chance to sit down and write about all the awesome things we saw there since the blog had been fixed – UNTIL NOW. Let me start off with this picture of one of the many awesome indie games we saw! Yes, you are reading the title correctly and yes, it was a whole lot of fun.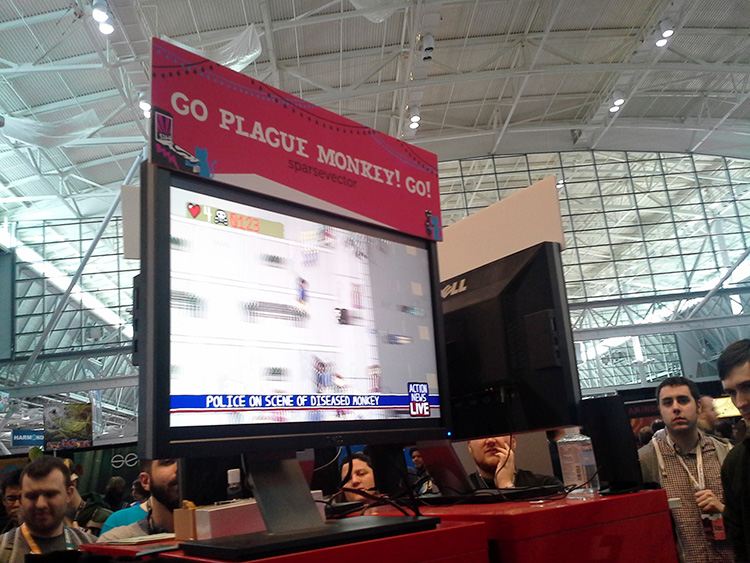 The first weekend in March was PAX East in Boston, Massachusetts. We missed 2014 and weren't planning on going this year (since tickets & hotel are so hard to get) but our friend Roger managed to snag Friday and Saturday passes for all three of us and another friend of ours, Denis. You might've seen them in such things as Animal Crossing & Saints Row costumes with us. I managed to get a room close to the con center once he told us about the passes and suddenly we were going to PAX East!
I want to apologize, first off, for the photos I have in this post. I didn't bring my camera so all of these photos were from my phone. Last time we went up to PAX East, we drove – this time we flew up so we tried to not take a lot of luggage. Which also meant no costumes. 🙁
Just because I didn't have my camera and we didn't have any costumes didn't mean we didn't have fun though! We saw a ridiculous amount of interesting looking games and are very excited about a lot of the ones we saw and got to try out. At the bottom of this post will be a list of our favorites, why we loved them, and links to more information about them!
Amplitude! Rock Band 4! Hard Rock party!
One of the highlights of the weekend besides all the games we got to see was the Harmonix party at the Hard Rock Cafe. Actually I should change that highlight to just Harmonix in general. They had the latest build of Amplitude at their booth, they had just announced Rock Band 4 and they threw a kickass party at the Hard Rock Cafe on Saturday night. It was a definite treat to see all the HMX people we met at Pax East 2013 again. In fact, you might remember from the PAX East 2013 con report where we talked about how we met HMX artist Jamie McKiernan while wearing our Dance Central 3 Glitterati costumes – we saw her at the party and talked to her about all kinds of ridiculous things. Seriously, that company is full of talented and extremely kind people. Everyone at the booth was pumped about Amplitude, excited about Rock Band 4 and their Hard Rock Cafe party was sold out — they had an AMAZING con this year.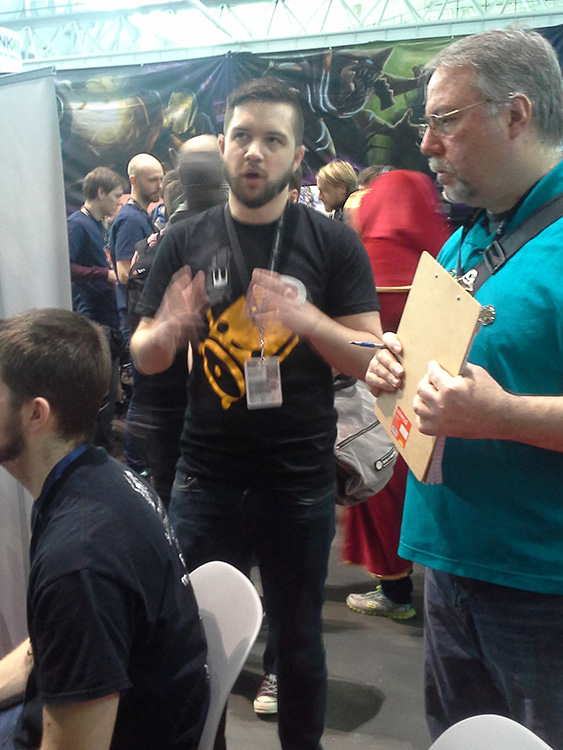 The other highlight was stumbling across a booth for a game called Enter the Gungeon, by Dodge Roll Games (and published by Devolver Digital, who we always trust). I was drawn to the fact that it looked like it was ridiculously fun to play and holy my goodness everything is adorable in the best and most badass way. As I was leaning over to grab one of the business cards so I could look into it more later I heard someone say my name – now, I knew Nate, Denis and Roger were to my right so when I looked to my left to see where my name had come from I was met with a face I hadn't seen in at least a decade. Apparently, one of the developers of Dodge Roll Games is an old high school friend of mine. I flipped out, naturally. He was a grade below me and I was standing there explaining all of this to Nate and Roger (Denis also went to the same high school and kind of remembered him) and repeating, "OMG PRECIOUS DAVID CHILD LOOK AT HIM I'M SO PROUD." That's what I was saying also when I was taking that picture up there: "I GOTTA GET A PICTURE OF HIM SO I CAN TWEET TO SHOW THE REST OF THE HIGH SCHOOL PEOPLE LOOK AT DAVID ALL GROWN UP. LOOK AT HIM EXPLAINING THE GAME." So besides Enter the Gungeon looking like complete crazy fun, I got to see an old friend too!
But really, I'm not kidding, keep an eye out for this game.
So with that, here are five games we had a blast playing/seeing/experiencing – we picked five to ramble about but there are more. We are so pumped about so many of these. There is a ton of talent out there.
1.) Enter the Gungeon (Dodge Roll Games) – SELF-EXPLANATORY IF YOU READ THE PREVIOUS PARAGRAPHS. 😀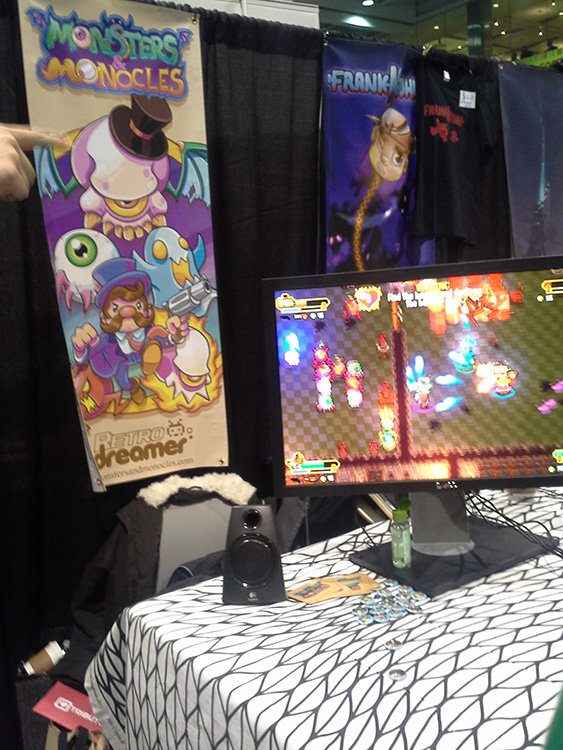 2.) Monsters & Monocles (Retro Dreamer) – The four of us went back to this game three times. If you like co-op games (in the vein of Castle Crashers – 4 player kick-everything's-ass kind of co-op!) then you will like game. We're always looking for 4 player co-op games that we can all play in the same room and we are so excited for this one. The sprites are extremely badass and cute at the same time (I always picked the robot when I could okay) and the weapons were the right balance of useful, crazy and funny (Crumpet Cannon ftw) and there's a great sense of humor about it. The tagline on the website is, "A tale of comrades, ballistics, and high tea." –and there's A ZEPPELIN. COME ON. I need this game yesterday.
3.) Homesick (Lucky Pause) – I have always had an extremely soft spot for point-and-click games (Myst, Phantasmagoria, Shivers, etc.) and you know how I love creepy games – not necessarily jump scare types, but the ones that really get to you and have an absolute slow burn about them. Homesick looks like something I am prepared to fall in love with. I'm preparing myself for massive amounts of feels. This game looks so pretty and so unsettling (and I mean that in the best way – I love games like this) and I cannot wait to dive into it and see what the whole story is with it.
4.) Tumblestone (The Quantum Astrophysicists Guild) – I will admit, I was ready to pass this off as "another puzzle game" until I was called over by one of my pals to play it. All four of us ended up playing on one screen against each other and had an absolute blast. You might think there's no other way a puzzle game can be done, or "that sounds too easy", maybe "that'll get old fast" — whatever you're thinking, Tumblestone deserves a shot. ESPECIALLY with three friends. It's fast-paced, clever and the game description even says you'll always pull a "just one more round" — this is true. We wanted to keep playing but there were people waiting so we had to tear ourselves away from it.
5.) Z'Isle (Miscellaneum Studios) – I know some of you are worn out on zombies and that's understandable/cool/whatever but I was intrigued completely by this game. They had just started building it – we were told this when we ran into a bug while playing. This was no big deal though, for having just started what we saw was impressive. The game is based off a comic book series set in Montreal seven years after a zombie apocalypse. One of the main things that pulled me over there was the weapon one of the people at the booth was holding. It was made out of bike parts and it looked effing cool as hell. The picture I snapped with my phone came out like utter crap so here is a picture off of Z'Isle's Facebook page. Give them a like and check it out. I got the first issue of the comic while I was there and it's a great read!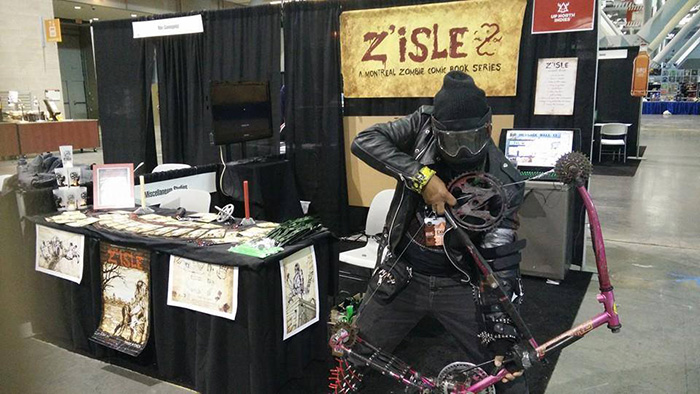 Also, check out these games we don't have room to ramble about!: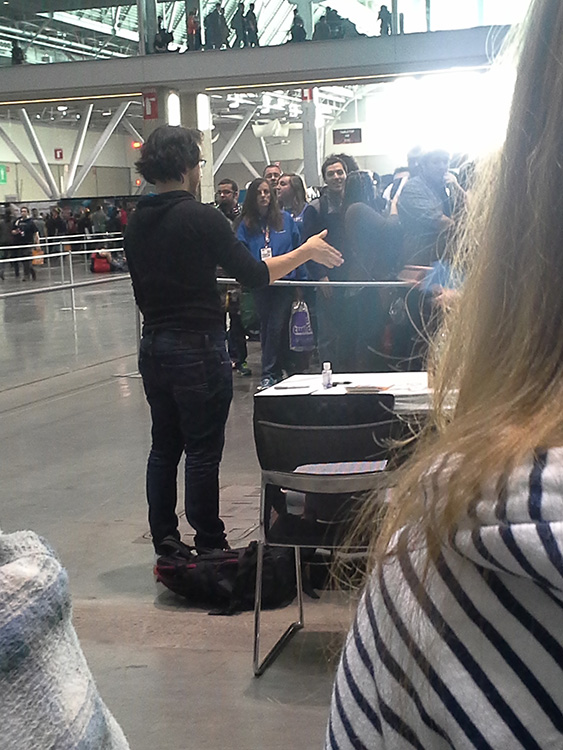 Overall, even without my camera and any costumes, PAX East was a blast. And to close this post out, here is a picture of video game YouTuber Markiplier (and the guy whose fault it is that we like Five Nights at Freddy's so much) who was at his table meeting fans and someone left him hanging when he tried to shake their hand. He just stood there and looked at them. How could you leave Markiplier hanging people, he's always so supportive of you. 😉
We don't know when we'll be at a PAX convention next, but one day we'd like to go back again!