Happy Birthday to The Glitterati!
If you know me and Nate (us personally or us as Zhobot :D), you know that we love Dance Central. The Glitterati, in particular. June 4th happens to be Kerith & Jaryn's birthday and we wanted to do something for it. We weren't sure what. We had some sketches of some ideas for original outfits for the Glitterati so we thought maybe we could put one of those together for some photos. The problem was, the three weekends before this past weekend we were out of town and had no time to make anything. This past weekend, we were catching up on things we missed the previous three weekends (sleep, mostly!) and realized their birthday was soon and we should actually get started on our original plan to make these outfits. We were suddenly pressed for time! We rushed these a bit, for those reasons above, but had fun making them and goofing off for photos (like always with us and K & J). We also got chocolate mousse cake and lemon raspberry mousse for the photos/mini-party, so it all worked out in the end.
Below is a photo of us in the outfits! There are more photos of our Glitterati birthday outfits on Zhobot's Facebook page!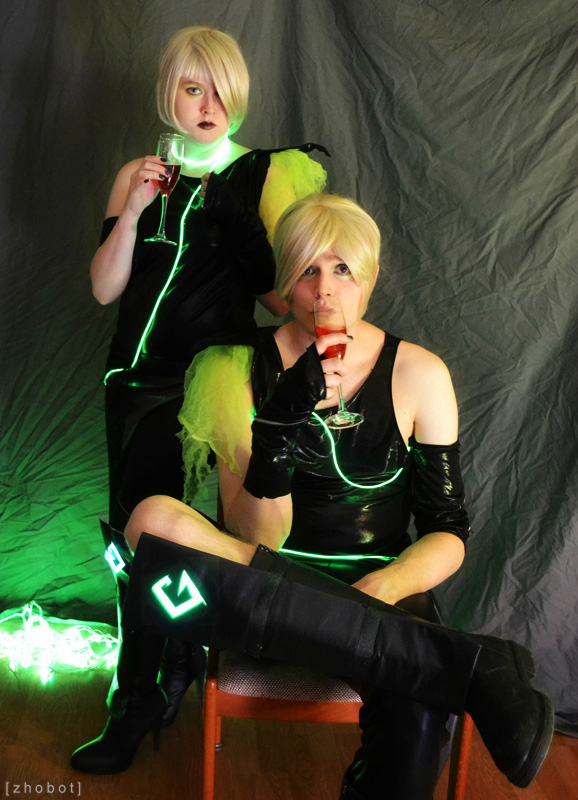 We also recently got the costume pages done for our three in-game Glitterati costumes, so check those out in the costume section!