Casual Central 2 – a Dance Central Project [AW]
This post was originally from 2013 and it was the second half of a two-part set. It was posted on zhobot, the costume/craft/video game/whatever blog where Nate and I occasionally posted about stuff.
The Dance Central series is one of my favorites. Not only did it get me off my ass and get some exercise, but it helped inspire me to try new techniques in costume building and it even helped me get out of a writer's block. With the news yesterday about Microsoft halting production on the Kinect, it made me look back on the series and my love for it and I figured I'd repost the second part of this set since I already posted the first! 😉
---
A few months ago we posted the first part to this crazy little project. Last weekend at our aptly named Basement Con (the 6th BC!), our Emilia (Bria of White Hot Room) from the first round joined us and we put together outfits for three more Dance Central characters. Well, two more – since I had already done a Jaryn outfit for Katsucon. I put together another outfit for her while Nate put an outfit together for Oblio and Bria looked fabulous as Miss Aubrey. We were originally going to do Frenchy and Marcos for this part, but one of Marcos' outfit pieces has gone missing, SO OBLIO AND JARYN IT IS!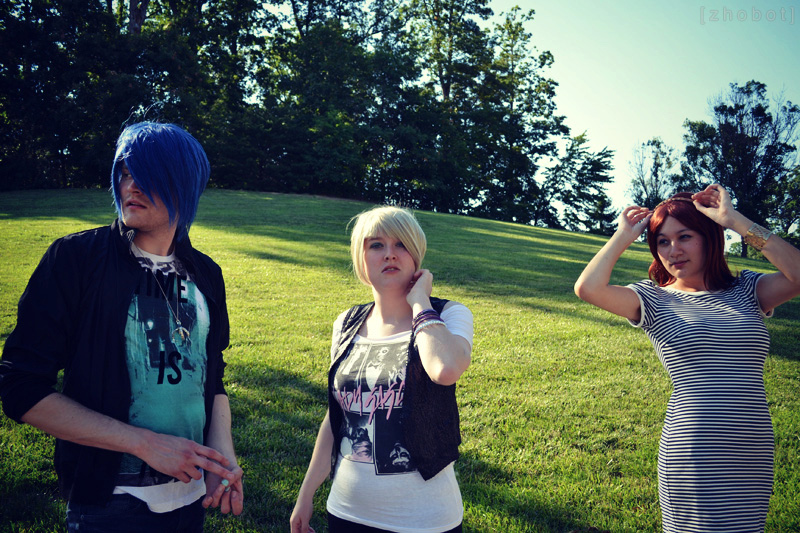 Many thanks to Roger for taking these photos!
Parts of Nate's Oblio outfit are going to be modified into parts of his Murder of Crows/Crew Look. Mainly the jacket and the crow's foot necklace. The jeans he wore will also be the jeans he'll use for the MoC costume when he gets it all finished! And you know no Oblio look is complete without some sort of nail polish, so Nate went with a couple of fingernails the mint color that Oblio had in the first Dance Central. The shirt, well, that just really seemed like a spacey Oblio sort of thing. We tried to find another space cat shirt, but none out there could match the magical feel of the first Oblio space cat shirt. As for Nate's facescruff, we just rolled with it for Oblio, figuring he might be too busy meditating for a week to shave or something. Come on, YOU KNOW WE LOVE OBLIO. ;D
| | |
| --- | --- |
| | |
For Jaryn, I cut the collar off of a Lady Gaga t-shirt, put a black sequined vest over it and wore them with a pair of black leggings. The giant rock I had on my finger had a number of colors in it – pink, silver, purple, green, yellow, which is why I went with purple bangles and green makeup (there was also the pink in the Gaga shirt). The wig is the one I cut and wore with our DC3 Haute Blooded Glitterati costumes. The shoes were a thrift store find! And they are heels so like the last Jaryn outfit, this is not a dancing one either!
To see Bria's post on this second bit of Fashion Central madness and more photos of her sassy and gorgeous Miss Aubrey, check it out over at White Hot Room!